Amelia MORRIS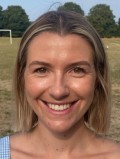 My name is Amelia Morris. I am English and I grew up in Warwickshire, very close to where the famous William Shakespeare lived! Before moving to Lyon I lived in London for three years. I have moved to Lyon this year to learn French and live with my partner who is Swiss and English.
Previously, when I taught in London I worked as a Reception teacher in the UK delivering a play-based curriculum to Four and Five Year Olds. Over the years in London I had classes made up of over ten different nationalities so I am excited to be teaching at Petit Monde to learn all about new and different cultures. As a teacher I am fun, enthusiastic and always happy in the classroom, this creates a safe space for the children to learn and hopefully a classroom that the children are excited to come in to every day! I am always singing and reading books with the children, not only because it is what I love to do, but also because these two activities develop so many fundamental skills in children. I have a strong belief in challenging children's language skills by building their vocabulary through the power of conversation. Therefore, one of my main rules as a teacher is always being available to listen with interest, talk and play alongside the children at all times.
I love being outdoors and exploring nature so I am so delighted to be closer to the mountains in my new home and I will instil this love through my teaching. Being outside can create great wonder for children with changing seasons, different insects, all the different species of plants trees and there are many more learning opportunities outside which I cannot wait to explore alongside the children.
My hobbies include: reading, walking and hiking in beautiful places, climbing, playing netball (a very British sport!), yoga and going to the theatre. In addition, this year I am hoping to learn to ski!